Enchanted Equine Adventures, LLC
Come ride in Albuquerque's beautiful South Valley
with certified PATH Intl. riding instructor, Kendra Loring!
ACHERON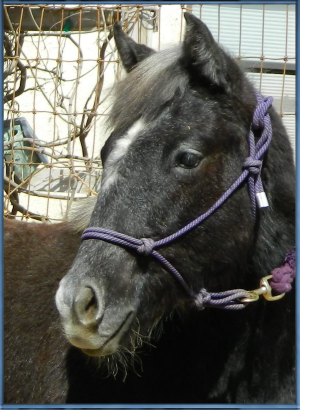 Acheron, or Ash as we call him, was born on July 31, 2013. He was a very big surprise. His mom, Misty, was adopted in May and by June we knew she was pregnant. Ash was born around 10pm in a very quiet paddock on a bed of straw. His birth went perfectly, despite the fact that his mom had no prenatal care most of the 11 months she was pregnant with him. He was born jet black with a star on his face. He was imprinted as a newborn and for a week after, so he is very friendly and loves attention. Ash continues to grow and learn as time goes by, he will be saddled the summer of his 2nd birthday and ridden soon after. In the meantime, he will be used in the round pen for ground lessons and go on trail rides with his herd. His jet black coat changes every day, he has white, black and brown hair, so we are unsure of what his color will eventually be. Ash and his herd have a forever home here at EEA. Ash is working on getting his own Facebook page and is writing a "how to be a therapy horse" book in his spare time.