Enchanted Equine Adventures, LLC
Come ride in Albuquerque's beautiful South Valley
with certified PATH Intl. riding instructor, Kendra Loring!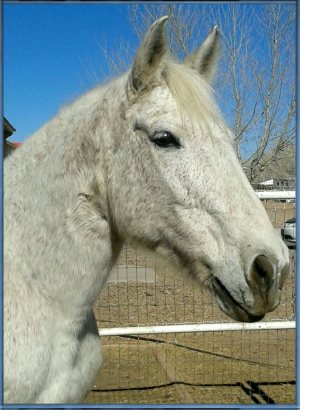 MISTY
Misty is a 20 year old grey mare who was adopted with Cinnabar from Walkin' n Circles Ranch in May of 2013. We had no idea when we adopted her that she might be pregnant. We discovered a month later that she was very far along in her pregnancy. She delivered a healthy jet black colt on July 31, 2013. Misty's history is unknown to us. We think she was a PMU mare for most of her life then she may have spent some time in the rodeo to finally have been turned loose in northern NM. Because of her life and experience with humans, Misty finds it hard to trust. But once you have gained her acceptance, she is a great ground work partner. She has great fear of a human on her back, so at the moment she is just doing ground work in the round pen and over our obstacle course.